COMMERCIAL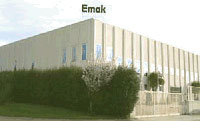 Founded in 1993 in Madrid, Emak Suministros España is an important reference point for the development of Emak sales on the Spanish market. Emak Suministros España has progressively reinforced its structure over time, marketing not only chainsaws but also brushcutters, lawnmowers, pumps, cultivators, accessories and spare parts. In ten years of activity, thanks not least to the introduction of the Efco brand in addition to the existing Oleo-Mac, the company has more than doubled its turnover.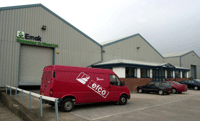 Founded in the 1970s as a company dedicated to importing and distributing saw chains on the British market, Emak UK subsequently diversified its business, extending its offer by introducing a range of products of the Efco brand (first lawnmowers and brushcutters, then chainsaws and other complementary products) and a wide range of accessories both for brushcutters — such as cutter heads and nylon lines — and for chainsaws. To cope with the increasing demand, the company was recently restructured, a new warehouse was purchased and its sales and service departments were extended.

Emak France is the most recent acquisition of the entire Emak group. The offer, besides the Oleo-Mac and Efco ranges (and Dynamac, dedicated to large scale retail outlets) includes a wide range of consumer and professional products for parks and gardens maintenance and agriculture. Thanks to the integration of Emak products, a larger sales force and substantial investments in marketing, Puissance Verte will be able to increase its sales considerably, from Year One, as well as achieving deeper penetration of alternative sales channels, such as Agricultural Cooperatives and Large Scale Retail Chains.
Victus, based in Poznan, has been a familiar name in Poland since 1989 and occupies a strong position today both in the traditional retail sector and as a supplier of large scale retail chains, thanks to its thorough organizational approach and high levels of professional expertise. Besides the Oleo-Mac range, Victus offers an extensive catalogue of products to both of the distribution channels it serves, including lawnmowers, garden tractors, rotary tillers, high-pressure washers, electric chainsaws, hedgetrimmers and electric pumps, as well as fertilizers and irrigation equipment.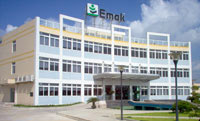 Emak set up the Jiangmen Emak Outdoor Power Equipment Co. Ltd, on the industrial estate of Jiangmen City (P.R.O.C.). The new company would manufacture and market outdoor power equipment, the intention being to strengthen Emak's position in price-sensitive markets and distribution channels and focus on the growth of demand in China. The new plant started up in the second half of 2004, and is expected ultimately to occupy an area of 40,000 m² — including 20,000 m² under cover — with production capacity of more than 250,000 units per year. Engineering and distribution of products manufactured at the Chinese facility will be managed directly by the parent company, Emak S.p.A.



Founded in the 1994th , as an importing and distributing company, JV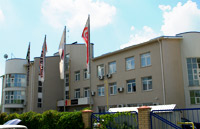 Epicenter LTD developed rapidly. Nowadays, enterprise sells wide range of lawn and garden instruments, accessories, spare parts, provides after sales services. Represented brands are: Oleo-Mac, Bertolini, Tecomec, Speed France, Comet.

www.epi.com.ua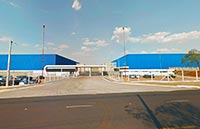 Emak do Brasil Industria Ltda. (Emak Brazil Industry Ltd.) is the newest unit of Emak group. It is already structured to start in accordance with the new composition of the group, concurrently using all the power of products in the reference trades.
Emak do Brasil distribute all types of Emak products, such as brushcutters, chainsaws, lawnmowers, and others with the "Oleo-Mac" brand.
Moreover, will be commercialized the Comet line products (which consists of agricultural pumps, industrial pumps, high pressure machines and also special machines with "Ptc Company" technology), Lavor (high- pressure washers and vacuum cleaners) and all the Tecomec products (accessories for high pressure machines "Mecline" and accessories for forest and garden "Tecomec and Speed France").
With these extensive lines of products, we are sure that we are in the position to reach and a stronger presence into the Brazilian market, offering qualified distribution and service assistance and also a better conformance to the clients requirements.
www.emakdobrasil.com.br